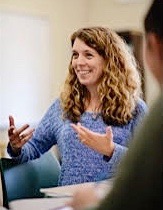 What Clients Are Saying 
Hannah has helped me take steps at my own pace that at first seemed overwhelming. As a young person, I feel affirmed and inspired after our sessions. The tools she offers bring me closer to my vision and help me create in an easeful way.
Mercy C.
Well, I know we'll continue incorporating coaching in my life, but I just wanted to thank you for these five sessions. It's really been such an amazing experience for me, and it has totally shifted my life. I have no doubt I would still be as stuck as I was, five weeks ago, had we not done this.
Casey G.
As a coach, Hannah has everything you need to meet your goals. Her own experience with ADHD and Executive Functioning challenges, as well as her years of teaching experience, are gifts that help her understand her clients' challenges and environment. And, thanks to her specialized training, they have access to a proven set of strategies and tools. She helped me get to the next level of my life with her ability to make me feel proud of my differences and to leverage them as strengths.
A no-brainer when it comes to choosing a coach!
Ludo P.
Hannah provided a safe feeling space for me to unravel my tangle of impending deadlines. She was a gentle guide with questions that really helped me come up with my own plan. Being accountable to someone gave me the supportive nudge I needed break out of my inertia.
Dimitrea T.