Dear Friends,
As a new coach, I read a LOT of books in 2017, but none of them affected me as deeply as Bill Burnett and Dave Evans' Designing Your Life.
I've been working through the exercises in the book by myself for the last couple of months, but a central tenet of Life Design is radical collaboration. So, I'm offering a local study group to embark on the DYL process together!
Written by Silicon Valley superstars who teach the wildly popular Designing Your Life elective at Stanford, this #1 New York Times bestseller is already a cult classic among those tired of the same old "follow your passion" advice that's so often a one-way ticket to frustration.
You can learn more here.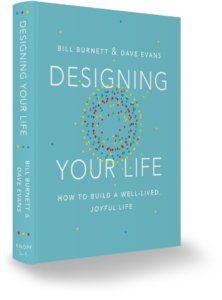 We will meet in Mooncalf Cottage (World Headquarters of Seabright Coaching!) equipped with art supplies and tasty snacks. Together, we'll use design thinking to build creative, productive, joyful lives, no matter where we are starting from. I will plan and facilitate each lesson, and you're welcome to email me for guidance between class sessions.
Your job? Buy the book, read the chapters for each week, and bring your ideas to the table.
If you would like to join me for six weeks of the Designing Your Life Study Group in Santa Cruz, please sign up by March 21, at midnight! We will begin our journey together on Thursday, March 29, from 7:00-8:30. The cost? $120–just $20 per class.
Interested in some extra support during the journey? I'll add three 30-minute coaching sessions for another $150.
Please join us!
Warmly,
Hannah